Check out our T-Shirts, sure to become an old favorite! We now have 3 t-shirts in several different sizes and colors! "Rocket City", "Fun on Wheels", and the early McCulloch logo t-shirt.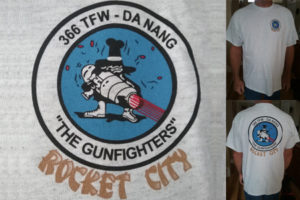 MP-15
Da Nang Air Base, home to the 366 Tac Ftr Wing "Gunfighters" back in the day, was also known as "Rocket City" for the regular enemy rocket attacks to the base and nearby city. I was a proud member of the 4th TFS, F4 Crew Chief. Shirt has large Gunfighters logo on back with 'rocket city' under, same small print on front left. Screen printed on Gildan Ultra Cotton, will last for years. Comes in L, XL, 2X. 2 bucks goes to the 366 Fighter Asso. $16 each, plus S&H.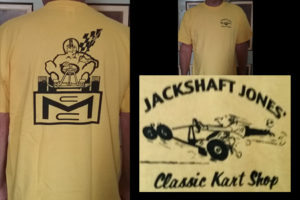 MP-16
Classic Kart Shop, has the early McCulloch logo on the back, and the classic kart shop logo on the left front. Comes in Bright Yellow, "pic is lousy", and Ash (light gray) in L and XL $13 each, plus S&H.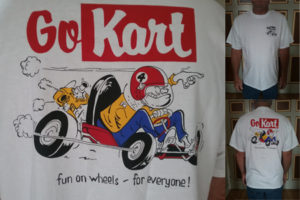 MP-17
GO KART 'fun on wheels' a classic logo by Tom Medley from 1960 or 61. Comes in Ash only, white is sold out, L and XL. $15 each, plus S&H.
Please see the info on all shirts at the bottom of the Misc Parts PRODUCTS page for all t-shirts.
Any of these is sure to become an old favorite!